Who is Bubba?
The short answer.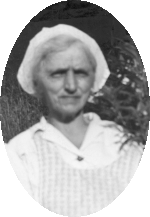 Founder's "Bubba"
circa 1950.

In America there are many different meanings attributed to "Bubba." In some Eastern-European languages, such as Serbian,
baba
means grandmother. "Bubba" is an Americanized spelling that the grandchildren used. Our recipes are based on those used by our founder's grandmother and his children's grandmother (his mother) - both referred to by us as "Bubba." (We'd love for you to
share what you call(ed) your grandmother in our blog
.)
Similarly,
dzedo
is Serbian for grandfather. The grandchildren spelled it as "Jedo." Jedo also played a role in getting our business started.
Even though our family still thinks of Bubba as grandma, nowadays many of our customers refer to the founder, John Sr., as Bubba. (And they increasingly refer to John Jr. as Bubba Jr.)
Read more about our story
.